Accelerator Pump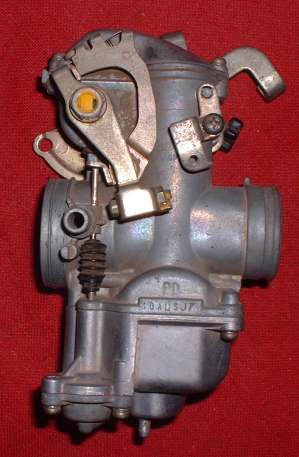 ¶
When you open the throttle the vacuum in the Carburetor throat goes away. As the engine speeds up the velocity of the air through the Venturi of the carburetor goes up sucking gas out of the Needle Jet and Main Jet. There is a momentary lag in air speed that can result in a lean condition. If you add more fuel during this speed lag, it prevents this lean condition. The Accelerator Pump pumps in this needed extra fuel.

Accelerator Pump Orifice
View from the engine


Accelerator Pump


Gas passage through
Accelerator Pump
Diaphragm and
First One-Way Valve
The Accelerator Pump is activated by the Throttle Linkage. This linkage pushes the Accelerator Pump Diaphragm through a rod connected to the Diaphragm. A spring pushes the Diaphragm. This causes a chamber below the Diaphragm to fill with gas, from the float bowl, through a one-way valve (first). When the throttle is opened, the throttle linkage pushes the Diaphragm rod. The rod pushes the Diaphragm against the spring forcing gas through another one-way (Second) and through the Accelerator Pump Orifice. Now that Orifice looks to me like you can change it out to a different size if you could get a different size, which you can't!



Accelerator Pump Orifice
View from the Air Cleaner


Accelerator Pump Orifice
Notice it looks
Removable


Accelerator Pump and
Second one-Way Valve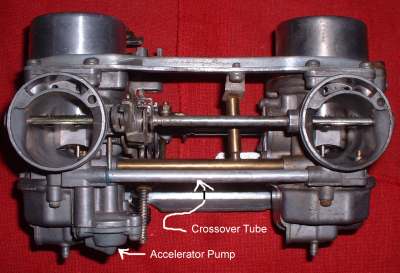 Sometimes Accelerator Pumps pump to Multiple Carburetors.
§ On to Deceleration Air Valve §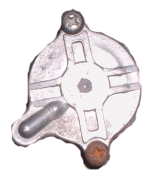 Did this page help you? Would you like to help us? If so
Click HERE
Copyright © 1999-2015 dansmc.com. All rights reserved.