Float Tickler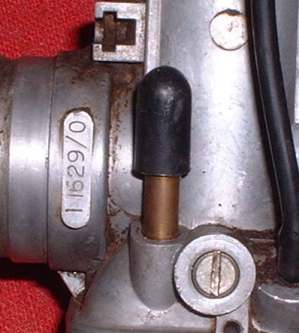 ¶
You can't get a much simpler starter enriching device then a Float Tickler. Simply put, it holds the Float down until the open fuel valve(s) flood gas down the throat of the Carburetor. Push 'em down with your thumb till your thumb is wet with gas, quarter throttle, stomp that kick starter like Godzilla stomped Tokyo and start that puppy.
Back in the day, 1960s, 1970s, or there abouts. My 750 Norton Atlas always started first kick when I tickled those carbs. I have fond memories of Float Ticklers. They always worked great for me. My Norton had a choke but I never used it. You will probably never run into them but now you know what they are.
Story time. 1966, I'm riding my Trail-90 up a lonesome trail near the top of Mill Creek Canyon in the Wasatch Mountains by Salt Lake City, Utah. I come around a bend in the trail and there sits a very tired man. I stop, say hi and ask what happened. He says he slipped off the rather narrow tail and rolled his 650cc BSA Twin down about 50 feet from the side of the trail. Says it died and he can't get it started. He'd been kicking on it for over an hour. I say "Want me to try to start it?" He says go for it.
So I climb down after asking what was his normal starting drill. He says it is flooded but he usually floods it with the Float Ticklers, quarter throttle, and kick. I open the throttles wide open and kick it maybe six or eight times to clear it. then I push the ticklers till my thumbs get wet with gas and kick. Bang, pop, bang, bang, bang and off it goes. He was very excited! We pushed it, together, wheel spinning, up the bank and then ran it out of the forest to the road. He gave me a nice ride on the 650 as a reward. It was great! Lots more power then my 90.
About a year later my family was visiting my older sister and her boy friend was storing his 750 Norton in her back yard. She said to go ahead, try to start it but it took a "REAL MAN" to start such a big bike. She never thought I would be able to start it. After all, I was only 16. Just a stupid kid, right? I got it lit with one, count 'em, one kick. Doubt me will you. Did I mentioned I always liked Float Ticklers?



Bing Float Tickler


Amal Concentric
Float Tickler


Amal MonoBloc
Float Tickler

Bing Float Tickler


Amal Concentric
Float Tickler


Amal MonoBloc
Float Tickler
§ On to Carburetor Accelerator Pump §

Did this page help you? Would you like to help us? If so
Click HERE
Copyright © 1999-2015 dansmc.com. All rights reserved.