Fun Riders Trike Around the U.S.
Reprinted by permission of the Chandler & Brownsboro Statesman (June 23, 2005)

by Wanda Nichols
What better way to celebrate reaching their goal of "triking" through all 48 continental states than with a colossal party! After their 11-state trek through Texas, New Mexico, Arizona, Nevada, Utah, Colorado, Wyoming, South Dakota, Nebraska, and Kansas on their 2004 Gold Wing Motor Trike, the FUN Riders, Bobby and Dixie Taylor, headed to Oklahoma where they attended the Oklahoma State Gold Wing Road Riders Association Rally in Stillwater, Thursday, June 9, through Sunday, June 12. Land Rush Days was the chosen theme for the rally.
Last time, the FUN Riders, (Feeding Underprivileged Neighbors) were southward bound through Kansas' "amber waves of grain" country. With the weather becoming increasing hotter, they began searching for a cool spot to take a short break. Dixie said while on the Internet she had read about the Rolling Hills Wildlife Center in Salina, Kansas that had just opened in March, and that just so happened to be right on their way. "First of all, it was cool inside, and second of all it was a place like no other place we have ever seen when it comes to wildlife," Dixie wrote. "This place is beautiful, huge, and loaded with every kind of animal you can imagine."
Dixie said the life-like animals were set up in surrounding just as like-like as the animals. "These animals look like they could just reach out and smell your hand," she said. "Please don't miss this place if you are ever in or around Salina, Kansas. I know everyone of you would love it. It's just off interstate 70 West. Follow the signs. It's at the zoo."
Back on the motorcycle the FUN Riders headed to Wichita, Kansas where they spent the night. Rising to a cloudy, windy, and stormy-looking day, Bobby and Dixie purchased groceries for their Kansas food drop to be taken to the Church of Nazarene in Winfield. While visiting with the pastor there, they found out he also had a Honda.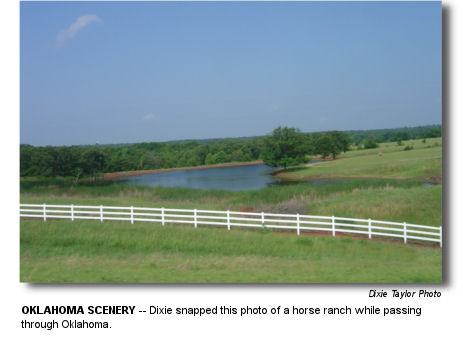 Southward bound, once again, the FUN Riders entered Oklahoma, where the landscape was more of the same - grain fields. And lots water as a downpour the night before soaked the area. Checking into their hotel Thursday afternoon, Bobby and Dixie waited for the arrival of their neighbors and friends Gary and Susan Gallandat, and David and Janice Farris, who were riding in for the rally that would kick off that night with an ice cream supper. These people really know how to live!!!
The Gallandats and Farris' arrival brought all the news from home and lots of laughter. Friday morning the three couples were up and about and ready for a busy day at the rally. A large portion of the day was spent attending CPR and First Aid classes. "Being such close neighbors, now we can all take care of one another in our old age which has already arrived," Dixie wrote.
A visit to the home where country music artist Garth Brooks and his ex-wife Sandy lived for a couple years while he was in college at Oklahoma State University, was followed by a visit to "Willie's" club (Willie Nelson, that is).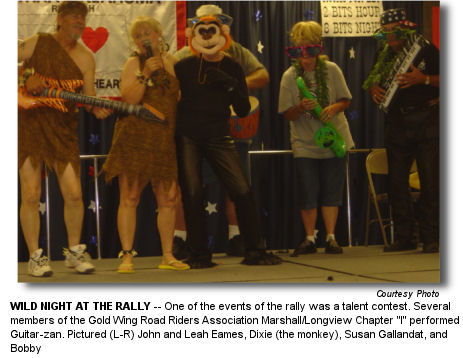 The real fun of the rally began Friday night when Bobby and Dixie, along with a couple they met from Marshall, Texas, John and Leah Eames; Susan and Gary, and Janica and David, participated in the talent show. Unbeknownst to Dixie, the Eames, who are members of the Marshall/Longview, Texas Chapter of the Gold Wing Road Riders Association, conspired with Bobby, and the others to have Dixie take on the monkey part of their skit to the Ray Stevens song, Guitar-zan. While the others dressed as members of the band in a variety of costumes, Dixie donned gorilla feet, a monkey face, and black clothing to play the part. They had the audience howling with laughter.
"It was all so funny," Dixie said. "We all had the 'groove.'" When the talent show drew to a close everyone headed outside to view the light parade where bikers and trikers rode around with colored light all over their bikes. "The light are just for shows and they parade around the parking lot two or three times to let everyone see how pretty they are," Dixie said.
Saturday at the rally found the FUN Riders playing games and shopping the venders. Raffle tickets were purchased throughout the day in hopes of winning the big $1000 pay off. Dixie said some rallies even give away a motorcycle. A "Best Tee shirt" competition was held for those chapters with their own logos printed on T-shirts. The Marshall/Longview "I" Chapter, which Bobby and Dixie joined while at the really, won second place.
A look at all the bikes and trikes folks rode into the rally, and the FUN Riders were ready to turn in for the night in preparation for their ride home the next day. "It felt great to reach that 48th state, " Dixie said upon their arrival home. "We were excited. It was a good time for us. As far as the pretty scenery, this was the best of all. Bobby and I both agree on that."
Dixie still could not say enough of their ride through the southern portion of Utah. "It's the most beautiful place we've ever seen," she said.
Arriving back home at Echo Lake Sunday afternoon, the odometer showed the FUN Riders traveled 4,235 miles on their two-week excursion, and later Dixie's lap top revealed a total of 2,880 photos were taken. Future plans for the FUN Riders include a trip to the Wind Ding in Fort Wayne, Indiana, July 1 for 10 days, as well as a possible trip to Alaska next summer.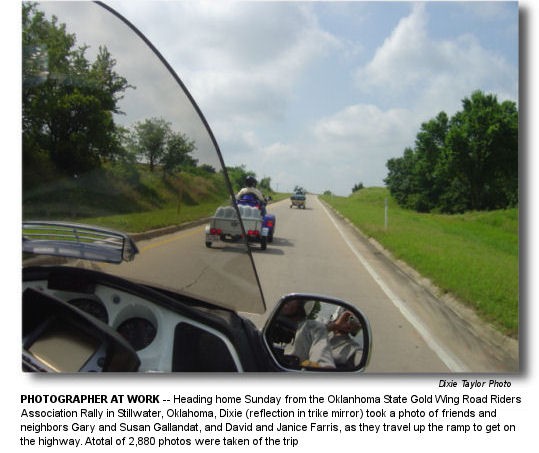 A FUN Riders cookbook comprised of recipes collected around the perimeter of the USA last summer should be coming out some time this fall. Proceeds from sales from the book will go toward the purchase of groceries for their Feeding Underprivileged Neighbors program.
Issue: June 23, 2005- June 2, 2005- June 9, 2005- June 16, 2005-
Back to Good Stories
Back to M/C Repair Course

Did this page help you ? Would you like to help us ? If so Click HERE
Copyright © 1999-2006 dansmc.com. All rights reserved.