Fun Riders Trike Around the U.S.
Reprinted by permission of the Chandler & Brownsboro Statesman (June 16, 2005)

by Wanda Nichols
After pulling a whirlwind 32-state 13,499 mile trip the spring of 2004, attending several out-of-state Gold Wing rallies, as well as their current tour through the western central United States, the FUN Riders, Bobby and Dixie Taylor, reached their goal of "48 States on a Motorcycle," when they entered the state of Kansas, late Wednesday morning, June 8.
Not only have they traveled through all 48 of the continental United States, they made "food drops" in each and every one of those states as well.
It was as they rode across the Nebraskan plains on Bobby's 2004 Honda Gold Wing Motor Trike 1800 the FUN Riders (Feeding Underprivileged Neighbors), saw off in the distance the sign they had been looking for: "Welcome to Kansas." The celebration included photos of each other with "Pug" their mascot and the motorcycle and trailer in front of the Welcome sign, re-mounting , and slapping a high-five. It was a happy time!
By the time this issue comes out, the FUN Riders will have safely returned to their Echo Lake home in Brownsboro. In the meantime, let's catch up on their adventure where we last left off, Friday June 3. With the rain pouring down, the FUN Riders had to put off Friday's visit to the Arches National Park, in Moab, Utah, until the next day, (Saturday).
The weather remained cold, but they continued east along the Colorado River through the red rock Utah mountain and on into Colorado, where Dixie says the mountain range is different from what they had been traveling through as, in Colorado, the mountains they saw were covered with beautiful green grass. 272 pictures were taken that day of the scenery and folks "Riding the rapids."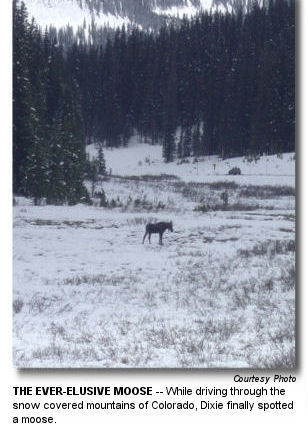 Taking Interstate 70 east, they rode through Grand Junction, Colorado, and the many small towns that were situated along the Colorado River. Saturday night, Bobby and Dixie stayed in Eagle, Colorado. Sunday's attire consisted of several layers of clothing as, even though there wasn't a cloud in the sky and the sun was shining brightly, it was only 37 degrees. Brrrrrrr! "It was so beautiful," Dixie said. "We were dressed for really cold weather and it was great." Imagine, the middle of June and they could see their breath!
Upon reaching Wolcott, Colorado, the FUN Riders turned north on to the back roads where they made the climb through the Rockies all the way up to Gore Pass, Muddy Pass and Cameron Pass. There, at 10,276 feet about sea level, they beheld the beauty of the land that had been blanketed by snow just days before. Dixie reports the heavy snowfall caused officials to shut down part of Interstate 70 near Vail, Colorado for a time. "Since we've been gone, we've seen snow-topped mountains in New Mexico, Arizona, Nevada, Utah and now in Colorado," Dixie said.
Remember that ever-elusive moose Dixie searched for all along the Canadian border last summer while on their 32-state tour? Well, it turns out he was in Colorado, so naturally, he became a part of the ever-growing collection of photos. Dixie excitedly wrote of all the wildlife they saw while on the road, red foxes, prairie dogs galore, wild ducks, camels, pheasant, moose, deer, antelope, beaver, buffalo, and a mountainside covered with long horn sheep. At this time, (eight days into their trip) Dixie reports they have traveled 2,720 miles, and declared it has been a wonderful trip.
While having lunch in Ft. Collins, the FUN Riders discovered what Dixie described as a man in desperate need of help and decided, in place of their Colorado food-drop, they would help him out instead.
With Colorado to their backs, Bobby and Dixie headed north to the small town of Lusk, Wyoming, situated near Nebraska's western border, and spent the night. In the morning, they made their Wyoming food drop with the motel desk clerk, who in turn gave it to the local food pantry there.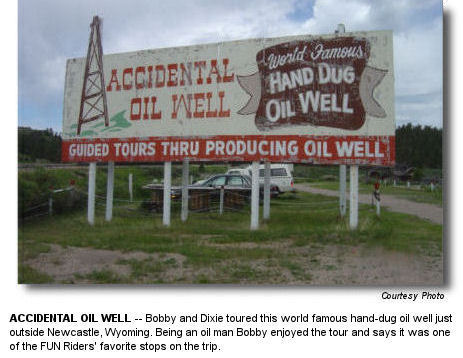 Heading north out of town, the FUN Riders visited an old 1800s two-story log building that had originally served as a fort before it became a stagecoach stop. Dixie said during the days of the cattle drives from Texas to Wyoming, cowboys drove cattle through the ranch land there. Turning east on Highway 16 in New Castle, Wyoming, the FUN Riders spotted a sign that read, "World Famous Hand Dug Oil well."
"We stopped and it turned out to be one of our favorite stops since we've been on this trip," Dixie wrote, Monday evening. Dixie said the 24-ft deep well was dug with pick and shovel. An underground tour shows visitors oil seeping from a rock, an oil pump and the pools of oil it pumps up underneath the wooden platform walkway. Still producing oil today, it is the only oil well in the world of its kind. An old huge round oil storage tank housed the gift shop. "Touring underground was like being in a cave and surrounded by oil," Dixie said. "Of course, Bobby just enjoyed all of it so much, and so did I."
Back on Hwy. 16, the FUN Riders headed east for Custer State Park, south of Rapid City, South Dakota. Along their way there, they rode through several short, one-car tunnels that bored through a mountainous rock formation, and observed a man and woman climbing the rocks several stories high. As the dark tunnels came to an end, daylight revealed a striking view of Mt. Rushmore. "Far off in the distance you can see the Presidents," she said. "That is such a beautiful sight."
Numerous pictures later, Bobby and Dixie continued on through Custer State Park, named for George Armstrong Custer, whose "Last Stand" clash with the Sioux led to his death along with 264 of his men. Herds of buffalo grazed throughout the park, and in town colorfully painted life-size, patriotic, fiberglass, buffalo cows "paraded" all down the streets, Dixie wrote.
Up next on the itinerary was a visit to the historical town of Deadwood, South Dakota where the infamous western legends Calamity Jane and Wild Bill Hickock are laid to rest in a cemetery that sits high up on a hill overlooking the town. "We have been here a couple of times before and it is one of my favorite places to come to," Dixie said. "This is a gambling town and all the casinos are in old historic buildings. It looks nothing like Laughlin or Las Vegas, though. It is such a pretty place to come and visit."
Settling in for the evening the FUN Riders checked the forecast that predicted wet, stormy weather for South Dakota and Nebraska; however, Tuesday morning came with a cloudless, warm, sunny day. A quick breakfast in Rapid City and a stop at the grocery store, the FUN Riders began their search of a church. "We saw a little country church painted so white it sparkled," Dixie wrote. :It was in the tiny town called New Underwood that sits back off the highway."
As they neared what turned out to be the First Baptist Church, Dixie said it was just as pretty up close as it was from the highway." Taking the exit for Badlands National Park, the FUN Riders drove through Wall, South Dakota, home of the world famous Wall Drug. Dixie said, there are billboard signs from miles away that advertise Wall Drug. "I know it is world famous because Bobby said when he was overseas in the Air Force, he saw the signs that said Wall Drug so many miles," she said. "The old buildings here have been restored to look like it did in the 'olden days.' We've seen so many towns in our travels that have done that and they're always so neat and clean."
Turning south from Wall, the FUN Riders rode on through Badlands National Park, where Dixie says they have been before, but by automobile. "Like all other things we have seen, it's so different on a motorcycle," Dixie said. "You are right out there with it and can see everything for miles around. You never stop looking." Dixie wrote the Badlands are what the white man gave back to the American Indians after taking their land.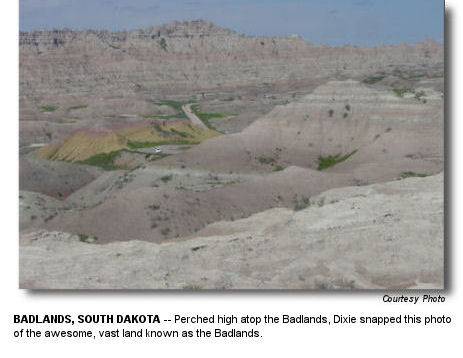 "I will tell you this," Dixie said. "The white man came out a lot better off. The Badlands are so rough and rugged I don't really know how the Indians made it." Highway 44 took Bobby and Dixie across Pine Ridge Indian Reservation and on it to White River, South Dakota, where they turned south on to Hwy 83, through Rosebud Indian Reservation, and into Valentine, Nebraska. "Continuing southward, the FUN Riders stayed on Hwy. 83 before turning east on Hwy. 2 to Broken Bow, Nebraska where they spent Tuesday night.
Even thought the ride so far has been cool for Bobby and Dixie, they report the last rainfall they have had to either wait or ride through was while they were in Moab, Utah.
Off again across the plains of Nebraska, the FUN Riders left Broken Bow, early Wednesday morning after making their Nebraska food drop at the County Out Reach Center. "We ride along corn fields all the way across the state," Dixie said. "A long 'windy' ride is the best way I can describe it. The farther we rode, the hotter it got."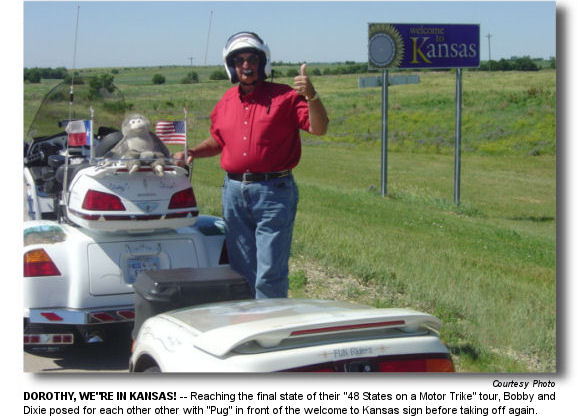 But, not even the heat could spoil the thrill they felt when they reached their goal of riding through all 48 continental states on trike - the state ok Kansas being #48. Leaving the corn fields of Nebraska behind the FUN Riders continued through the "Amber waves of grain" country, of Kansas.






Next week - read about the FUN Riders' remaining tour through Kansas, the three-day Gold Wing Rally in Stillwater, Oklahoma, June 9, 10, and 11, where they let their hair down, (helmet hair and all), and their return home Sunday.


Issue: June 16, 2005- June 2, 2005- June 9, 2005- June 23, 2005-
Back to Good Stories
Back to M/C Repair Course

Did this page help you ? Would you like to help us ? If so Click HERE
Copyright © 1999-2006 dansmc.com. All rights reserved.