Fun Riders Trike Around the U.S.
Reprinted by permission of the Chandler & Brownsboro Statesman (February 10, 2005)

by Wanda Nichols
Most people spend their whole lives with a dream they hope to someday fulfill. With the help of his wife, Dixie, Bobby Taylor saw his dream come true last summer when the couple set out on a trip around the perimeter of the United Stateson motorcycle.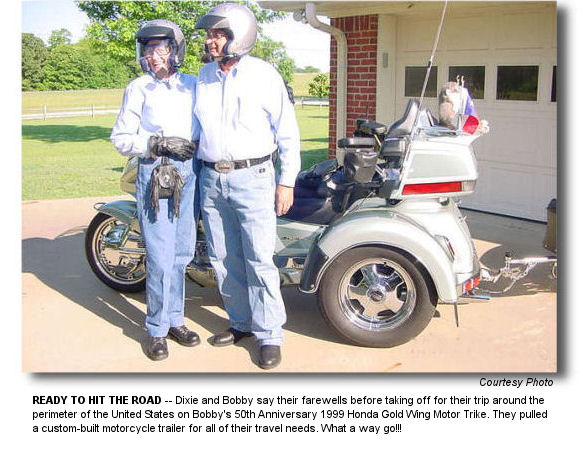 Their adventure actually began nearly a decade ago when the couple met and married.
"It's been a whirlwind," Dixie said. "We've been on wheels ever since." Bobby, 67, who grew up in Delhi, LA. is retired from the oil industry, and a licensed pilot. A lifelong Brownsboro resident, Dixie, 64, is retired from 27 years in the fashion business and has occasionally written fashion columns for various newspapers.
When the couple met, Dixie says she was terrified of riding a motorcycle. Bobby has been a motorcycle enthusiast most of his life. Whenever Dixie rode with Bobby on trips she spent most of the time trying to figure out the easiest way to jump off in case it started to fall over. Then one night Dixie came up with the idea of helping others through a program she started and named the FUN Riders, (Feeding Underprivileged Neighbors.)
"I wanted to ride, but I was afraid," Dixie said. "I decided if I was going to ride a motorcycle, I wanted a good reason to do so. One night while I was sound asleep I got a message from God that said, 'If you take these trips and pass out food, I'll take care of you.' Right then and there feeding underprivileged neighbors became the plan.
So on July 19, 1999 the FUN Riders took several boxes of canned food to Family Outreach of Houston County in Crockett, Texas. Soon other trips came. At least once a month they delivered food to charity organizations all over Texas. But Dixie was still nervous on the bike. To ease his wife's fears, Bobby converted his 50th Anniversary 1999 Honda Gold Wing motorcycle into a Motor Trike.
"Then one day Bobby gave me an ultimatum," Dixie said. "He said, 'I am going to the Honda Wing Ding in Madison, Wisconsin. You can go if you want to or you can stay home.' I thought a Wing Ding was a cupcake." Being the kind of gal who loves to share news and secrets with those she affectionately calls her "sisters in friendship," Dixie proclaimed to the girls in the luncheon club, the garden club, the girls in the family, and even girls she didn't know, "I'm going to Madison, Wisconsin on a motorcycle!!!"
Most responses were, "Are you crazy?" To which Dixie answered, "Yes, but I'm going to do it anyway." To make a long story short, by the second day of the trip, which was in June 2003, Dixie was having so much fun, she started planning another trip. One day, on their way back from a rally in Springfield, Missouri, Dixie and Bobby began to talk about other places they could ride. That's when Bobby asked her about taking a trip around the United States. "When I was in high school I used to think, 'Man, I wish I could get on my bike and ride around the United States,'" Bobby said. "I never dreamt I would do it. Now when I look at a map of the United States I can't believe I've been around it. I point out places and say, 'I've been there, and I've been there.'"
Dixie said the first thing she thought of was, "What a great way to put FUN Riders in motion." Throughout the winter of 2003-04, Dixie researched on the Internet, and carefully mapped out their trip that would take them west through Texas, New Mexico, and Arizona, then north along the coast of California, Oregon, and Washington, across the northern border of the United States, south along the eastern shore, to Florida, the deep south, and back home. She then got busy contacting members of the Gold Wing Road Riders Association (GWRRA) in all 32 states they would be going through.
"I asked them if we bought groceries for the needy, would they be willing to meet us somewhere in their town to accept a 'food drop' for them to pass on to an individual, church or charity organization of their choice," she said. "I got great response and the rest in history." After filing the FUN Riders as a Charity Organization at the Henderson County courthouse, in Athens, Texas, on February 26, 2004, the FUN Riders became official. The only thing left was the packing as they would be riding in all kinds of weather, rain, heat and snow. Family, friends, and members of GWRRB were able to follow along as Dixie documented their trip via e-mail on a lap top. Thus the journey begins, and on April 27, 2004, the couple embarked on the 32-state tour that became a once-in-a-lifetime experience. Join us over the next several weeks as Dixie and Bobby share their exciting experiences that covered an incredible 13,499 miles and rendered some 8,000 postcard perfect photos.



Issue: February 10, 2005- February 17, 2005- February 24, 2005- March 3, 2005- March 10, 2005- March 17, 2005
Back to Good Stories
Back to M/C Repair Course

Did this page help you ? Would you like to help us ? If so Click HERE
Copyright © 1999-2006 dansmc.com. All rights reserved.