Fun Riders Trike Around the U.S.
Reprinted by permission of the Chandler & Brownsboro Statesman (February 17, 2005)

by Wanda Nichols
In the first part of the FUN Riders Trike Around the U.S., Dixie and Bobby Taylor talked about how they met, came up with the idea of FUN Riders, and began their adventure on three wheels - a 1999 Honda Gold Wing Motor Trike.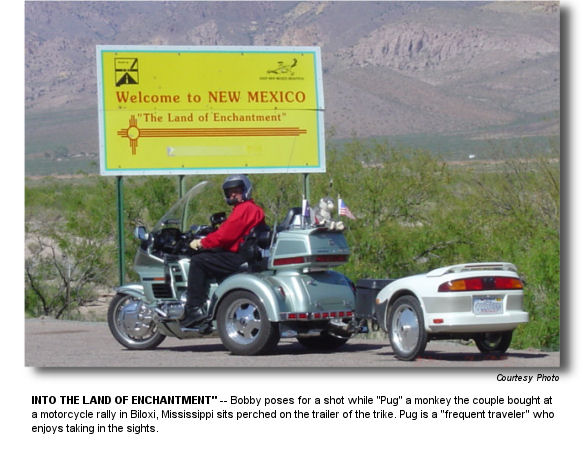 In Part 2, two days after a going away party, the Taylors are finally on the road. On April 27, 2004, the couple headed for Port Arthur, on the border of Texas and Louisiana to begin their journey. Their first stop was Vidor, Texas where Bobby's sister, Maxine Mayfield accepted their first "food drop" to give to the Vidor Methodist Church.
The plan was then to drive the back roads along the Gulf of Mexico, through the deserts of New Mexico and Arizona, along the coast of the Pacific before turning east along the Canadian border. "We tried to stay as close to the shoreline as we could, and only take the main roads when we absolutely had to," Bobby said.
The couple rode along the windy Gulf of Mexico for two days and enjoyed lunch on South Padre Island. "The next day, while at a gas station, we met a wonderful group of folks from Belgium who were touring Texas," Dixie said. "They were on their way to Del Rio to see a rodeo."
By the time they reached the Big Bend area they were surprised to find instead of the usually hot weather, a cold front had moved in on them. "That cold front came the night we arrived there and all day long the next day we traveled in the coldest and hardest wind we have ever traveled in." Dixie said. "Needless to say, we were layered, and even with all the clothes we had on it was still cold.
"Some of the places we traveled in New Mexico and Arizona, Old Mexico was just a stone's throw away," she said. "We didn't see a drop of rain since leaving home, but the weather was really windy. And we do mean windy!" More "food drops" were made and the mile markers passed quickly.
The FUN Riders made drops in Columbus, New Mexico and Sierra Vista, Arizona. While in Sierra Vista they had lunch with a John and Neoma Stewart. "We are here to tell you, you won't find nicer people than "Wingers," Dixie said. "We felt like we had known them forever." While in Arizona, the Taylors toured the town of Bisbee, Arizona. "It is a very old town and fairly large with the most beautiful old homes and buildings one can imagine," Dixie said. "We enjoyed the town so much we drove the same streets three times."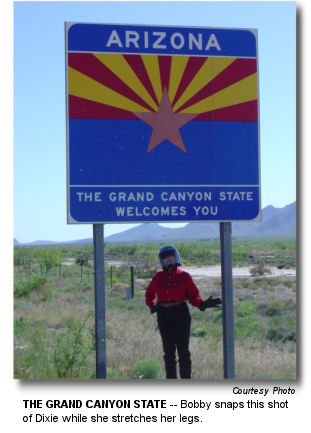 By the time they reached Tucson, the weather had turned hot. Two more nights in Arizona, and they were on their way into California. "In California we saw some of the most beautiful sights we have ever seen," Dixie said. "Bobby and I both have done a lot of traveling in out lifetime, but mostly by car. I just have to tell you there is nothing like seeing our USA by motorcycle."
Taking their time sigh seeing the Taylors rode north up the California coast. "We had the most wonderful weather," she said. "Some places were cold, some hot, but not a drop of rain." Dixie continued to take her picture perfect postcard photographs and downloaded them into her computer at night. "Some nights we were in areas where we could not get out on the computer because there was no local phone service for the computer," she said.
Another "food drop" was made at the Victoria Motel in Ventura, California. "We asked the motel owner Marilynn Sanchez if she knew someone who could use the food," Dixie said. "Indeed she did. She told us about a woman who had left an abusive husband taking nothing but the clothes on her back."
As San Francisco disappeared in their rear view mirror the Taylors traveled Highways 1 and 101 to enjoy the sights. They crossed the Golden Gate Bridge and the next few days were filled with what Dixie said was some of the most beautiful, breathtaking sights, smells and sounds imaginable. "The sights of the clean and quaint sea-front towns, smells of the forest and Pacific, and the constant twist and turns made a very exciting ride," Dixie said.
"Around each curve was a prettier sight than the one we just left around the last curve." One of their favorite places they visited while in California was Stewart's Point General Merchandise, a fifth generation grocery store built right next to the ocean, where they ate sandwiches out on the porch and visited with the folks there. "There was an old hotel built in the 1800's right next door that still had the furniture in it," Bobby said. "No one has been in it for years but everything was the same. There was even a gate with a tree growing right through it. It was a very interesting place."
Dixie and Bobby celebrated Mothers Day in Fortuna, California. "I told Bobby first thing that morning I would love to have a taste from home and that would be some fried chicken for lunch," Dixie said. "I had some and it was just like we cook it in the south - crispy and "fat'nin." The northern coast also "gave rise" to the ancient redwood forest where Dixie and Bobby drove through a huge redwood tree. By then they had traveled nearly 3,800 miles and were two weeks into the trip.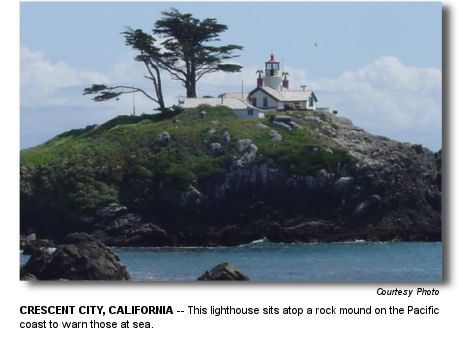 While in Crescent City, California Bobby and Dixie decided to take a day off the road to relax, and discovered a Wal-Mart there. "We paid them a visit to buy a few things that we didn't need," Dixie said." But hey, it was Wal-Mart. Isn't that way you do at Wal-Mart?"
After a day of rest they hit the road again and spent a night in Tillamook, Oregon. The next day they woke up to a little rain. "It was a pretty drive up the Oregon coast, but most of it was through wooded mountain area," Dixie said. "We rode for about four hours in the rain but it was never a hard rain. We had the proper clothing for rain so we stayed warm and dry." A "food drop" was made in Astoria, Oregon.
"We had the address of the food bank there but when we pulled up in the front, there was no sign," Dixie said. "To make sure we were in the right place, I went in to ask. The ladies thought I was there to get a hand out! It was so funny. I was a mess. No make-up, helmet hair and baggy clothes. They truly thought I was in need and to be honest I certainly looked the part." Dixie said everywhere they travel they get a "thumbs-up" from folks in passing cars.
"When we pull our helmets off, people then realize we are not "young-uns" and they really got interested in why two "oldies" were on a motorcycle," Dixie said. "Every time we check into a motel, we usually draw a crowd. One night when Bobby didn't come back to the room for a while I looked out to check on him. There were five people gathered around him talking about our trike and travels."
Another drop was made in Port Angeles, Washington to a Gold Wing Rider to give them to someone in need. "That's what this mission is all about," Dixie said. "You can always find someone in need." Washington state offered up some snow covered mountains and lots of views. On May 14, the Taylors began to ride east and head for Idaho. Next Week: Read about the Taylor's journey along the Canadian border.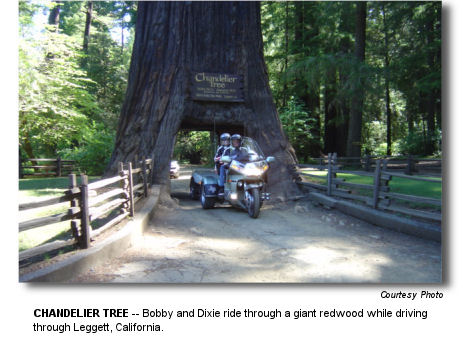 Issue: February 17, 2005- February 10, 2005- February 24, 2005- March 3, 2005- March 10, 2005- March 17, 2005
Back to Good Stories
Back to M/C Repair Course

Did this page help you ? Would you like to help us ? If so Click HERE
Copyright © 1999-2006 dansmc.com. All rights reserved.