Fun Riders Trike Around the U.S.
Reprinted by permission of the Chandler & Brownsboro Statesman (March 3, 2005)

by Wanda Nichols
By now the FUN Riders, Bobby and Dixie Taylor, of Brownsboro, have seen the inside of many grocery stores around the country. The weather they have experienced while riding on their 1999 Gold Wing Honda, has ranged from hot, cold, windy, rain and hail. They've crossed the Great Divide, not once, but twice. The first time in New Mexico, elevation 4,520 ft., and then again at Marias Pass, in Montana, elevation 5,216. In 23 days, beginning with Texas, they have made 11 food drops in as many states and have covered more than 6,000 miles. The FUN Riders were not only fulfilling a lifelong dream of riding the perimeter of the continental United States, but also serving others through their charity organization FUN Riders (Feeding Underprivileged Neighbors) officially registered February 26, 2004. Throughout the trip they have had the pleasure of meeting and getting to know many folks from sea to shining sea. Now, with 21 states to go, the FUN Riders are about to encounter the coldest weather yet.
Rolling into Michigan, Bobby and Dixie continued to enjoy the beautiful scenery provided by Lake Superior, Their ride alongside the lake's expansive proportions began in Minnesota, then again in Wisconsin. Arriving in Marquette, Michigan, a food drop was made for a local food bank there, and after a good night's sleep, they continued east.
The FUN Riders rode up to Tahquamenon Falls State Park, near Paradise, Michigan. "Those falls were like no other that we have ever seen," Dixie said. "Because of the minerals in the rocks, the water that forms the falls is brown, tan, cream, and white."
The damp, cold, windy weather had the Taylors more than ready to call it a day and settle into a warm motel room in St. Ignace, Michigan. The plan for the next day was to take a ferry out to Mackinac Island, where one of the oldest forts in the United States, Fort Mackinac, still stands. Dixie said she was looking forward to getting up and "fixing" her face and hair as she would have a day without "helmet hair." However, the FUN Riders report the wet, cold(helmet-less) three-hour ferry ride was most miserable.
Once they set foot on the island, the surrounding beauty of the cold place took their minds off the cold. "The homes, the way of life, and the history is something," Dixie said. "There are no motor vehicles on the island except for a fire truck, ambulance, and police car."
With horse drawn carriages and bicycles the only mode of transportation there, Bobby and Dixie rode a carriage through the town, but the cold eventually had them heading back to St. Ignace. Dixie said that even though it was wet, cold and windy in Michigan, they couldn't help but notice the state's beautiful side as well. By now they had seen Lake Superior, Lake Michigan, and were riding alongside Lake Huron. Three Great Lakes down - two to go.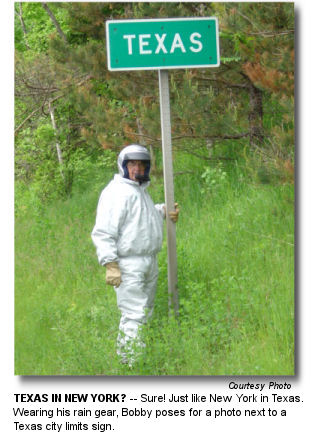 "The Great Lakes looked just like the ocean," Bobby said. "You can't see across them but they were truly beautiful. Also, there were woods, lots of woods in northern Michigan."
Traveling through Michigan Bobby and Dixie said the countryside looks like East Texas with lots of rolling hills and trees.
While Texas, Oklahoma, Idaho, and West Virginia have "panhandles," the state of Michigan, has a "thumb" that juts out into Lake Huron, on of the five Great Lakes.
"When they show Texas on TV, in magazines, or on any kind of ads, they show West Texas, which looks like New Mexico and Arizona," Dixie said. "East Texas and the Hill Country looks so different from that. Lots of trees, rivers and lakes."
After a day off to catch up on the laundry, the FUN Riders headed out of the miserable, cold weather and on to Ohio to meet with another Gold Wing Road Riders Association (GWRRA) member and make a food drop.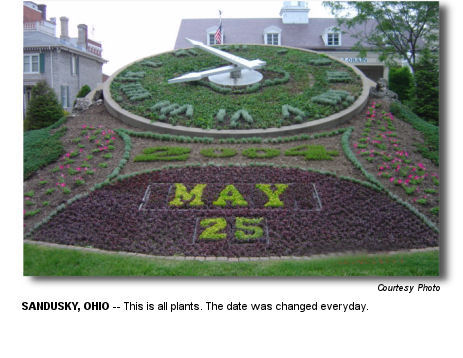 The trip to Sandusky, Ohio was a bit wet, but nothing heavy. A dinner with Harold and Barbara Linden, (their food drop connection) and lots of "trip tales" the FUN Riders enjoyed a driving tour of Sandusky with the Lindens. Sandusky, a small city built on Lake Erie, (Great Lake #4) is graced with old Victorian homes and old stone buildings. The tree lined streets and parks throughout the city made it one of the prettiest places Bobby and Dixie say they have seen.
"We were very impressed with it all," Dixie said. "We have a list of places we consider our favorite spots and Sandusky is definitely at the top of that list."
Riding on through downtown Cleveland, Ohio, was an experience neither will forget for awhile. "I was fine, Bobby was a wreck," Dixie said. "We caught all the red lights. Several hundred of them, I'm sure." During their "tour" of Cleveland the FUN Riders saw many multi-million dollar homes, some with yards as large as city parks. Victorian homes built in the last 1800s and early 1900s are abundant in the small towns along Lake Erie.
The ride along Lake Erie had the FUN Riders traveling through the northwestern portion of Pennsylvania that borders on the lake. Many grape vineyards and apple orchards were seen along the way. Food drop #14 was made in Erie, Pennsylvania when Bobby and Dixie connected the GWRRA members John and Marge Augustine, and spent the night for the first time with someone they had not met before.
"After a wonderful dinner they prepared for us, we spent the rest of the evening swapping motorcycle trip stories," Dixie said. "These folks were celebrating their 60th wedding anniversary this year and are still taking motorcycle trips. They were such a joy to be with."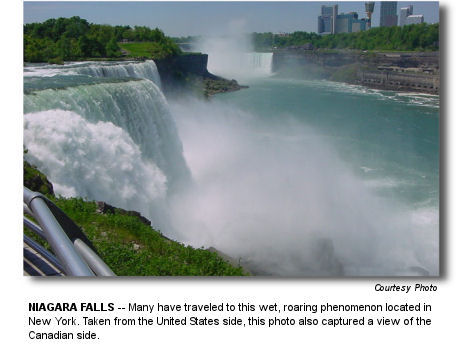 Upstate New York revealed the unbelievable sight of Niagara Falls and Lake Ontario.(Great Lake #5) "We had been there before, but each time it just seems to be more beautiful," Dixie said. "Before, we were on the Canadian side, but this time we were on the American side."
A stop in Rochester, New York found the FUN Riders at the home of Walter and Judy Koopman, located about four blocks from the Erie Canal. "Before we had a wonderful home cooked meal, Walter and Judy took us over to see Erie Canal," Dixie said. "We studied about it in school not knowing we would actually ever see it."
Judy, who is involved with a ladies' jail ministry, where she helps women who have been released get back on their feet, took the food drop for a local needy woman.
"We loved hearing the stories about the people the food went to," Dixie said. "There are truly folks in need of help out there. Judy and Walk both donate their time to helping others, as do many of the people we gave our food to."
On the road again, the FUN Riders followed Lake Ontario until they reached the St. Lawrence River. The beauty of the countryside helped to make the cold, windy weather a lot more bearable. "The rivers and lakes in the northern part of the United States were something to behold," Dixie said. "Lake Ontario was such a dark blue it almost looked purple in places, absolutely beautiful."
After spending two nights in Messena, New York, the FUN Riders drove through flat farmland with lots of huge barns as they crossed Lake Champlain and entered into Vermont. The flat land graduated into rolling hills and mountain range.
"There are hundreds of barns all across the top of the United States and I have taken pictures of many," Dixie said. "But there are so many that are just falling gown. So many of the farmers just had to call it quits and that is so sad. Some of the houses and barns are huge and could be so beautiful but it looks like they are just going to have to sit there and decay beyond repair."
Dixie said she could imagine how beautiful many of the large houses and barns must have been in their day of glory.
Arriving in Newport, Vermont around noon, Bobby and Dixie checked into a motel just in time to catch the Indy 500. While Bobby watched the Indy 500 Dixie wrote an e-mail about the ice cream shops she has seen during the FUN Riders' travels.
"In Texas we have the very large Braum's Ice Cream stores," she wrote. "In all the northern states they have little ice cream parlors in every town. They are so cute, kinda like Texas snow cone stands, only a little larger. To advertise or for their sign in front they made a very large ice cream filled cone from plywood and painted it very pretty, usually pink for strawberry ice cream in the cone. As cold as it gets up here, I was surprised to see all the ice cream shops."
Memorial Day morning found the FUN Riders waking in Newport, Vermont, to what they later said could not have been a more perfect day.
"The sun was shining brightly, not a cloud in the sky and the only wind that was blowing was what you naturally get while riding a motorcycle," Dixie said. "It was so nice not having to fight a cold strong wind."
The mountains, forest, streams and lakes were quite a treat for the couple. "Northern Vermont is really pretty, and northern New Hampshire is really, really pretty," Dixie said.
As they crossed over the Maine state line into "Scenic Vacationland," the FUN Riders began seeing "Moose Crossing" signs along the way, and started watching for that perfect photo opportunity of a real, live moose.
"Well that never happened," Dixie said. "We didn't see a moose but we did see tire skid marks on the highway where people had to throw on their brakes to keep from hitting one. We had been warned by some locals we might have to stop in a hurry like come cars do, but I think that is mostly at night and we don't travel at night." So the next day Dixie took up the search again.
Next Week the FUN Riders will reach the highest point of the Continental Unites States - Madawaska, Maine, and then begin their descent south down the eastern seaboard.


Issue: March 3, 2005- February 10, 2005- February 17, 2005- february 24, 2005- March 10, 2005- March 17, 2005
Back to Good Stories
Back to M/C Repair Course

Did this page help you ? Would you like to help us ? If so Click HERE
Copyright © 1999-2006 dansmc.com. All rights reserved.