Fun Riders Trike Around the U.S.
Reprinted by permission of the Chandler & Brownsboro Statesman (March 17, 2005)

by Wanda Nichols
There is not a day that goes by that Bobby and Dixie Taylor aren't reminded of their trip last spring when they rode the perimeter of the United States. Taking off on Bobby's 1999 Gold Wing Honda in April, the couple, known as the FUN Riders,(Feeding Underprivileged Neighbors) left Brownsboro, Texas and traveled clockwise around the country making a food drop in each state. They experienced all kinds of weather, made new friends and saw some of the most beautiful scenery. Imagine visiting the most northern point of the continental United States, Madawaska, Maine, then 13 days later standing at the most southern point, Key West, Florida. In our final installment of this exciting trip the FUN Riders have but seven states left on their travel itinerary before returning home. "Almost every day we say something about this trip," Dixie said. "We still can't believe we've done it."
Last week the FUN Riders had just made a food drop to a couple in Norfolk, Virginia. Riding the back roads through the countryside they made their way to the Outer Banks in North Carolina. The close they go the more they noticed the many beach homes and condos along the beaches, and enjoyed the lighthouses along the way.
Stopping at Kill Devil Hills, where the Wright brothers made their first flight was a special treat for Bobby who is a licensed pilot. When they reached Cape Hatteras, they took a 40-minute ferry ride across the Pamlico Sound to Ocracoke, NC where they waited to catch another ferry to Cedar Island, NC. Arriving at dusk Dixie and Bobby were not sure where they would be staying the night. However, just as they drove off the ferry they were surprised to find the entrance to a motel and restaurant next to the ferry exit.
"When you get off the ferry, all there is is a restaurant/motel and a ferry," Bobby said. "Getting there late I was hoping they were still open, and they were. We told the restaurant owner we sure would like some oysters, and she friend some right up. Me, being a boy from Louisiana. I told the restaurant owner, "There here are the best oysters I've ever eaten."
The next day, the FUN Riders were on the road again and drove through the war training grounds of Camp Lejeuen Marine Base. "We saw Marines in tents along the way out in the woods," Dixie said. "It was raining pretty hard during our drive through there and we just let the rain come down without our rain gear on," Dixie said. "It felt good getting wet because it was pretty hot. After the rain, our clothes dried in no time at all."
Like the last Catholic church, Dixie shocked two more sweet ladies working at the St. Jude the Apostle Catholic Church in Hampstead, NC when the FUN Riders made their food drop. "When I told one of them I had been on a motorcycle for over six weeks she said, 'I would think you need a rest,' but I told her I honestly had not gotten tired of riding, yet," Dixie said. "I'm not sure she believed me but I was telling her the truth."
Cruising southward, the FUN Riders entered South Carolina, a place Dixie likes to call the "playground state," because of all the golf courses and vacation homes. "In North and South Carolina there were many beautiful golf courses, lots and lots of putt putt golf, and everything in the world to do with kids," she said. "This is a kid's paradise."
The further south Dixie and Bobby rode the more hot and humid the weather became. It wasn't that long ago they were bundled up in their warmest attire as they rode through the northern states along the Canadian border.
Riding the back roads to Charleston, South Carolina, the FUN Riders crossed a couple of beautiful old bridges as they got closer to the city. Dixie said the natives of Charleston are famous for their wonderful hand woven baskets, and spotted a few basket stands along the highway, but passed them by as they were heading to Beaufort where they had an appointment to make their next food drop.
"Every time we think we have seen the most beautiful place, another one comes along," Dixie said. We have seen old homes all along our route for the past six and a half weeks and they were all so beautiful, but I think Beaufort deserves a blue ribbon for the best so far." Many of the old homes in the Historic District were built in the 1700s and had either survived the devastation of the Civil War or had been renovated for future generations to appreciate.
"It's so beautiful there," Bobby said. "I can see why someone would want to live there," Many of the homes there are surrounded by huge moss draped live oak trees hundreds of years old. "These homes look like the came right out of "Gone With the Wind," Dixie said. "Many movies have been filmed in Beaufort and we can see why. The town is built on the water front and it is in the most beautiful setting,"
In Beaufort, the FUN Riders met their first Gold Wing Road Riders Association (GWRRA) group for their South Carolina food drop. Usually the meetings were with a GWRRA couple or individual. This time there were four members and three guests. They all met, had lunch and enjoyed the camaraderie of their new friends.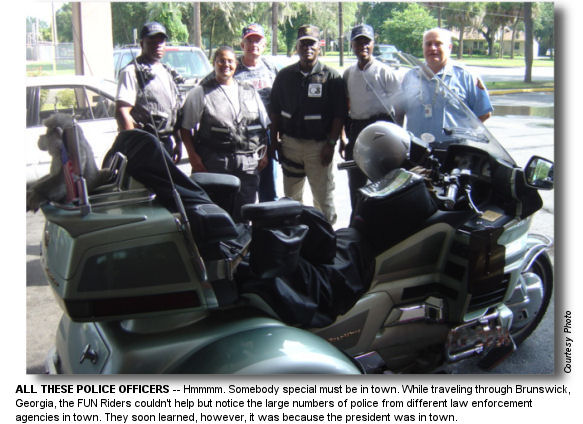 Riding the back roads through the remained of South Carolina, the FUN Riders entered Savannah, Georgia to find the place alive with police and state troopers.
"Now keep in mind, we have been on the road for over a month," Dixie said. "We have not looked at a newspaper, or TV, except for the Weather Channel, so we were wondering what in the world was going on." While Bobby checked in to their motel room, Dixie asked some police officers what was going on. "Well, they looked at me like they were thinking, 'Woman what planet have you been on the past week,'" Dixie said. "What everybody in the world seemed to know about except us was that President Bush and all the high-up people in the words were in Savannah and Brunswick. The only reason we were able to get a room at that motel was because all the police and secret service people were moving out at the very moment we were checking in."
After settling in for the evening Bobby and Dixie met some of the secret service men who were interested in their trike and trip. Dixie said one even got a camera so he could take a picture of the trike. "He wanted a picture of everybody," she said. "They were the neatest bunch of guys. Not only were there police officers and state troopers, the place was also crawling with military police. I have never seen that many police vehicles and that many officers in one place as I did that day in Brunswick and out on the highway."
Their Georgia food drop was made to GWRRA members Mike and Betsy Lachowsky who treated the FUN Riders to lunch at Ryan's Family Steak House in Brusnwick. Dixie said Mike is actually from Texas and his brother lives only 35 miles from Brownsboro, and his mother is only about 45 miles away. "It's a small world after all," Dixie said. "Mike is an instructor at the US Border Patrol School in Brunswick, and his dad used to work for the border patrol in Brownsville, Texas. WE had such a nice visit with there good people."
Leaving the excitement of Brunswick, Georgia behind the FUN Riders continued south to Jacksonville, Florida where the exited off the main highway onto Highway A1A to follow along the ocean to St. Augustine. "This was another one of those beautiful drives," Dixie said. "The homes, of course, is what makes the ride so pleasing to the eye. You just get a glimpse of the ocean every now and then between the homes." St. Augustine has always been one of Bobby and Dixie's favorite places they have enjoyed visiting in the past. AS they continued south toward Key West, the trike's odometer read 11,400 miles.
"We made such good time without even trying," Dixie said. "Each day we left whenever we wanted, stopped whenever we wanted, and the miles just continued to add up." While tooling through Daytona Beach, the FUN Riders observed a billboard sign advertising "Motor Trike." "There are a few things we want to say about Motor Trike," Dixie said. "If you are a rider, or a wanna-be rider and you're thinking about buying a trike or a conversion kit, we highly recommend Motor Trike. We have been so happy with ours. It has performed flawlessly on this USA journey."
Motor Trike is located in Troup, Texas. Dixie and Bobby say owners Jeff and Diane Vey run a top-notch organization and take great pride in their product. Anyone interested can find Motor Trike on the Internet at www.motortrike.com.
Stopping in Titusville for the night the FUN Riders awoke the next day to another bright, sunny, beautiful and very hot day. One of the funniest memories Bobby and Dixie have of their trip happened while in Florida. After getting packed and ready to leave Titusville, Boddy realized his trike key was missing. "We turned the room upside down looking for it," Dixie said. "He went into the office looking for it," Dixie said. "He went into the office looking for it, he went next door where we had bought snacks the night before looking for it, but no key. Not to worry though, he had a spare." Well, Bobby inserted the key in the slot, starts the motor, and went on their way. Continuing south of Highway A1A along the coast the heart combined with the stop and go of heavy traffic and red lights prompted Bobby and Dixie to move over to the Interstate where they could travel faster and cool off.
Three miles down the road, Dixie is in a state of panic. "If he hadn't lost his keys that day he would have been so mad at me," Dixie said. "I was panicky in the beginning because he didn't tell me he had another key. When we finally got on the road and on our way I noticed something didn't feel right. Oh my gosh! I forgot my (dental) bridge! I started pounding on his back and told him, 'We've got to go back!" After a 10 minute ride that seemed like 30, the FUN Riders retraced their path back to their motel room to find the maid had not cleaned the room yet. Explaining her predicament to the motel owner Dixie obtained a key, went back to their room and fetched her bridge.
Back on the road, they excitedly anticipated their visit and overnight stay in Key West. However, that was not to be. It seems there was a Gay Pride festival going on and Bobby and Dixie were told there was nothing within 50 miles of the area. So they opted to stay in Florida City located north of the Florida Keys. The next day they woke, once again, to hot, hot, hot and drove down through all the Florida Keys to Key West, the most southern point of the continental United States.
"It was a beautiful drive down there," Dixie said. The water is so pretty." Dixie described the water as a beautiful aqua color. On one side of the islands is the Atlantic Ocean and the other side is the Gulf of Mexico. "The seven mile bridge is pretty amazing to go across," she said. "Some of the old seven mile bridge is still standing. In fact, one area of it has the railroad bridge with the car bridge built above it. It was so narrow compared to our bridges today."
In Key West, Dixie took a photo of Bobby on the trike in front of the big rock that says "90 miles to Cuba." Considering the heat as well as the crowd they decided to turn around and head back to Florida City.
"If you've never been to the Florida Keys, this is the way they are laid out," Dixie said. "You will go along and there will be motels, restaurants, and all kinds of shops and businesses. All these towns have a name with the word Key. For instance, Key Largo, or Big Pine Key. Then you will go across a long bridge and then there is another town, and then another bridge and then on and on like that. You can see water on both sides of the road all the way down to Key West."
While enjoying lunch in the Keys, Bobby and Dixie discussed what they had eaten in the different states along their trip. In the south they had Mexican food. In California, clam chowder. Maine had lobster, and North Carolina had some very tasty oysters.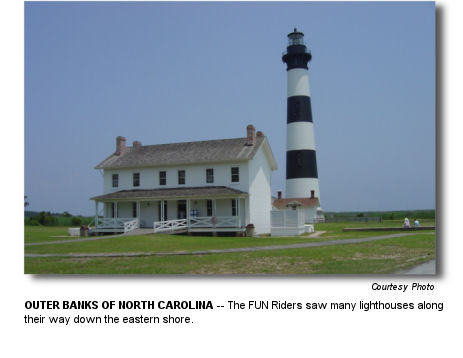 "It's all been delicious but I probably enjoyed the friend chicken I had on Mother's Day the most," Dixie said. "Bobby's favorite was the oysters in North Carolina."
The Sunshine State's smoldering heat was beginning to sap the energy from the FUN Riders and they welcomed the coolness of their motel room when they returned to Florida City for another night's stay. "When we were in the northern states it was so cold at times, but with all our layers of clothes we really felt comfortable except for a couple of times," Dixie said. "Out of our 48 days of being gone we have only three days that were just really unpleasant because of the weather. But we got through them OK."
Leaving Florida City, they rode under a cool, cloudy sky through the Florida Everglades, also knows as Alligator Alley. "I would not say the Everglades are beautiful but they are very pretty along the canal next to the highway," Dixie said. "The greenery that grows along the road is what is so pretty. Bobby says I think everything is pretty. He did agree with me though, that it was pretty and different from what we were used to seeing."
Even after seeing all kinds of "road kill" along their trip the FUN Riders had never seen a dead alligator that had been killed by a car. That day they saw two. "We never saw alligators that had been run over at night," Boddy said. "They weren't just little ones, either."
Leaving the Everglades behind the FUN Riders crossed the lengthy Tampa Bay Bridge during a short heavy shower. "It felt so good because by that time the sun had come out and it have really gotten hot," Dixie said. "In this hot weather we don't even bother putting on our rain gear. We just let it soak us and in no time we're dry when it's over."
They then made their way to Clearwater, Florida where they spent the night. The next day, with over 12,000 miles behind them, and the highway all to themselves, the FUN Riders began their journey up the Gulf of Mexico enjoying another cool, cloudy day. "Highway 19 was a really pretty ride," Dixie said. "It is long and flat but lots of pretty growth along the sides of the highway, very shady and cool. And get this! We saw "Bear Crossing" signs, one a mile, for ten miles. The day before we saw "panther Crossing" signs every mile for five miles. I didn't know they had black bear or panthers there."
Heading west on Highway 98 the FUN Riders followed the windy gulf coast and crossed many bridges to get to Panama City, Florida. It rained on them every now and then but they just kept on rolling. The sign that said "West" reminded them their trip would soon be over. Such a bittersweet feeling.
On their way to Pensacola, Florida where they would meet with a group of GWRRA members for a food drop, the FUN Riders covered many miles along the beaches. "We have never seen so much construction going on in one area," Dixie said. "Panama City Beach, which is one of the most beautiful places along a beach that we've seen, has miles and miles of high rise condos and are building hundreds more. The beach homes, condos, hotels and apartments are as far as you can see for many, many, miles. And we're talking high dollar. No cheap rent there."
The new "high-rent buildings are painted such pastel colors as yellow, pink, light green, peach, lavender and sky blue. Then there will be a bright gold, blue, or apricot. Dixie said it all goes so good with all the while sand.
Now for the men, Bobby says there is no shortage of boats and ears in Florida. There are miles and miles of dealers. "We do see motorcycle dealers along the way also, but very few," Dixie said. "There seems to be more Harley Davidson than Honda. Bobby had both so there is no competition there. He prefers riding on his Gold Wing trike, though and that's the only one I will ride."
Arriving in Pensacola, the FUN Riders met up with their Florida food drop connection, GWRRA member Ken Grant. "I call him "Krazy Ken" because this guy is a riot," Dixie said. Ken met Bobby and Dixie in Gulf Breeze, just outside Pensacola and led them to the Manna Food Bank where the three of them made a food drop, one from the FUN Riders and another from GWRRA Chapter FL1-D in Pensacola. Ken and his wife Celeste could meet them for dinner after work. This is where the fun began.
"Ken, on his beautiful orange Gold Wing and Bobby and me on our trike, rode over to one of the FL1-D member's home, and much to our surprise, the street was lines with bikes, riders, and co-riders," Dixie said. "There was a crowd. We were celebrities! We met everyone, got our hugs, you know this is hugging bunch, mounted our bikes and rode off into the wild blue yonder to a place called The Shrimp Basket. There were 25 Chapter members who attended the shrimp feast. There were 10 bikes and three trikes. WE were the only one with a dirty motorcycle. Theirs were all so pretty and shiny. Would you believe Bobby wants to carry 14,000 miles of dirt home? He is proud of every bit of that dirt because it accumulated on this trip."
After filling up on shrimp, the group rode several miles to Foley, Alabama for an ice cream cone, but when they got there they found the place was closed. Deciding to call it a night, there were more hugs, and then good-byes. Bobby and Dixie followed Krazy Ken and Sweet Celeste back to their home and spent the night. "We had an 80-mile ride under the starts that night and it was so much fun," Dixie said. "That is what being a "Winger" is all about."
As far as the weather goes, Bobby and Dixie both agree, Pensacola was as hot as Michigan was cold. An early departure the next morning, and the FUN Riders caught a ferry boat and headed to Alabama where they made a food drop in Forrest Gump's stomping grounds, Bayou La Batre. "We pulled up under a shed at the First Baptist Church, and a little old lady there didn't know if she should run of what," Dixie said. "It's not everyday that a couple of "Oldies" drop by with a bag of groceries riding a motorcycle."
The Mississippi food drop was made at the Christius Victor Lutheran Church. "Another church, another confused lady," Dixie said. "She had a frown on her face that could kill. When I leaped off the motorcycle to tell her what we were doing there, she started looking for the preacher so he could see this couple from Texas on a motorcycle delivering food. She found him."
The FUN Riders then set out for Louisiana where they would make their last food drop of the trip in Morgan City, Louisiana. After having breakfast with Merlin and Beverly Mayon, who are GWRRA Chapter Directors of "H" in Houma, Louisiana, a representative from St. Mary's Outreach, Inc., Kay Raymond, met with Bobby and Dixie to accept their food drop. "We had such a nice visit with these fine folks," Dixie said. "Beverly is a Goldwinger who rides her own trike. Oh how I admire these ladies who have the nerve to do that."
From Morgan City the FUN Riders traveled the back roads through real "Cajun Country" to Cameron, Louisiana where they caught a ferry. At the ferry crossing Bobby saw an oil rig that he had worked on while drilling for oil in the Gulf. Back on the road again, Bobby and Dixie rode along the Louisiana coast for quite some time. All of a sudden in full view was the sign that said "Welcome to Texas," the beginning and the end of their journey around the perimeter of the USA.
They headed to where they made their first food drop of their incredible journey, which was Bobby's sister's home in Vidor, Texas, and spent the night.
Home again, home again, jiggidy jig.
The next day the FUN Riders pulled into their Echo Creek driveway in Brownsboro, where they were greeted with a "Welcome Home" sign their next door neighbor had placed on the back of Bobby's pick up truck.
"We rode 13,499 miles," Dixie said. "We were off by one mile. We said we would probably go about 13,500. We were gone 54 days." The FUN Riders wish to thank everyone who have been so supportive of their travels along the way, especially for their prayers that they would make it home safe and sound.
"So many people gave us peace signs and thumbs-up signs," Dixie said. "Truck drivers came on our CB and talked to us about the trike and our trip. They always asked where we were headed. People on the streets hollered at us, and cars honked at us. It was all just so much fun. We were often asked by people if they can take our picture with the trike or just a picture of the trike only.
So what will the FUN Riders do for an encore? Having just visited 32 of the continental United States, and traveled to nine others to attend motorcycle rallies, the FUN Riders have but seven more states to visit in order to have experienced all 48 states, (not including, of course, Alaska and Hawaii).
Some time in May they will set off on another FUN Riders excursion that will take them to Colorado, Utah, Nevada, Wyoming, South Dakota, Nebraska, and Kansas.
Tune in later this summer to read all about it.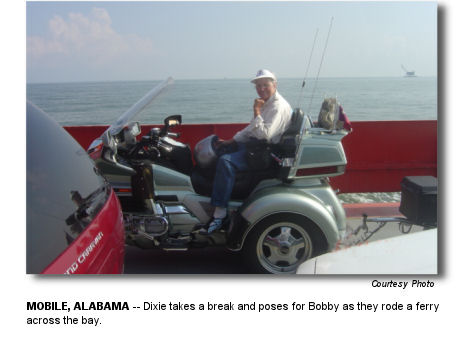 Issue: March 17, 2005- February 10, 2005- February 17, 2005- February 24, 2005- March 3, 2005- March 10, 2005
Back to Good Stories
Back to M/C Repair Course

Did this page help you ? Would you like to help us ? If so Click HERE
Copyright © 1999-2006 dansmc.com. All rights reserved.