Fun Riders Trike Around the U.S.
Reprinted by permission of the Chandler & Brownsboro Statesman (March 10, 2005)

by Wanda Nichols
Bobby Taylor's dream of a lifetime continued to become a reality as he and his wife Dixie rode the perimeter of the continental United States on his 50th Anniversary 1999 Honda Gold Wing Motor Trike last spring. The trip was quite an accomplishment for Dixie as well as before the couple met 10 years ago she was literally terrified of riding motorcycles. These days, however, Dixie is an old pro on three wheels and through what she declares as a message from above, came up with the idea of helping others through a program the couple started named the FUN Riders (Feeding Underprivileged Neighbors.) Registered as a charity organization in February 2004, the FUN Riders set out two months later on a trip that would take them through 32 states in 54 days. Throughout their journey they purchased groceries to be delivered to a Gold Wing Road Riders Association (GWRRA) member who in turn took the food to a food bank, church or someone in need. With the purpose in mind that One Bag of Groceries Makes a Difference, a "food drop" was made in every state they visited. While on the road they rode through all sorts of weather and saw some of America's most beautiful sights. New friends were made and adventures were had. The adventure began April 27, 2004 in Brownsboro, Texas when the FUN Riders headed west toward the west coast. In Parts 1 through 4 the FUN Riders have traveled through 14 states. Part 5 of this series finds them about to enter New England territory.
In Vermont, the "Green Mountain State," the FUN Riders spent Memorial Day, May 31, enjoying the sun shining down on them as they rode over mountains, streams, and lakes. With the extremely windy, cold, wet weather behind them, they continued eastward through a short portion of New Hampshire before crossing the state line into Maine.
The FUN Riders never did spot that ever-elusive moose they were hoping to photograph while in Maine but they did get a photo of a man plowing his land with a mule. As a way of keeping family, friend and Gold Wingers abreast of their adventures, Dixie sent update letters via e-mail as often as possible throughout their trip, as not every place they stayed was set up for Internet use. In a letter dated June 1, 2004, Dixie said:
"We left our home five weeks ago today. WE have come over 9,000 miles. Today we made it to the highest part of the continental United States, where we had lunch, while looking across the river at beautiful Edmundston, New Brunswick, Canada."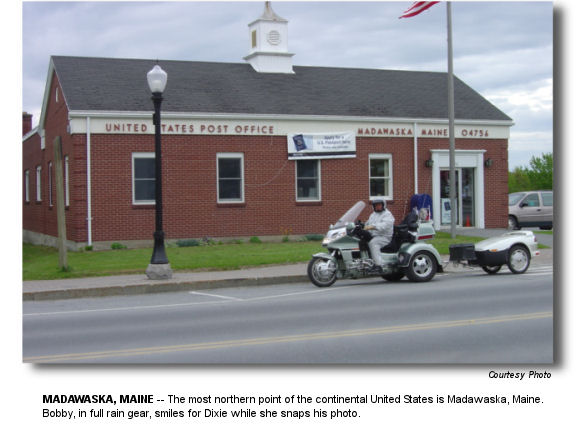 One of Dixie's fondest memories of the trip happened while riding through Madawska, Maine, the most northern point of the continental Unites States. "We were wearing our leather jackets with USA on the sleeves and the American flag on our backs," she said. "An elderly lady was just getting ready to cross the street when she saw us. She was humped over probably due to osteoporosis, but when she saw us, she straightened up and saluted us. I will never forget that."
The weather was cold and cloudy as the FUN Riders rode the back roads of Maine. Many houses and barns were built as one, as Dixie put it, with the house in front and the barn at the rear or on the side. Very large and clean, the yards were well kept and the houses were painted white. "This is what I have probably enjoyed most about this trip, seeing all the beautiful old homes," Dixie said. "So many of them were built in the late 1800s and early 1900s. They have been in every town and through the countryside since California."
Enjoying the beautiful Maine countryside the FUN Riders rode nearly 10 hours. "We don't normally ride that long but today it was so enjoyable we just didn't think about the hours," Dixie said.
Staying the night is Calais, Maine, (est. in 1604), the FUN Riders prepared for the ride south along the breezy east coast. "That is one thing you get when you travel around the USA just inside the border because you're next to oceans, rivers and huge lakes," Dixie said. "To see what all we have though, it's worth it. The wind can blow all it wants to."
The FUN Riders saw Acadia National Park through a down pour before checking in at Bucksport, Maine. Next day , they left the cloudy, misty weather behind them and stopped in a restaurant called "Taste of Maine," in Bath, Maine, where they feasted on lobster for lunch while watching an osprey grooming himself and watching over mom and the babies in the nest.
The Maine food was made at a Baptist church in Freeport. "We couldn't find anyone around, so we were getting ready to leave the bag of groceries sitting on the ground beside a car that was parked there, when someone drove up," Dixie said. "It happened to be the pastor of the church."
The FUN Riders saw Kennebunkport, Maine in the heaviest downpour of rain and hail they have ever experienced. There was no place to pull over or take shelter. "It's a little sea town, and we were just riding around to see where the president is from when the storm began," Boddy said. "There was nothing there to get under and the marble-size hail was loud when it hit our helmets. It was really rattling."
Even though the weather controlled the majority of the road conditions, while in Maine, the FUN Riders also kept an eye out for logging trucks. "They do a lot of logging in Maine, Boddy said. "You have to be really careful of the logging trucks.
The farther south Bobby and Dixie traveled down the coast of Maine the more populated it became. "There is so much construction it sometimes blocked the view of the ocean," Bobby said. "It's very thickly populated. Even more so than California." Leaving beautiful Maine behind the FUN Riders rode into the southeastern portion of New Hampshire, where it is bordered by the Atlantic Ocean. A food drop was made in Seabrook to GWRRA members Jim and Lois Ringland, who welcomed Bobby and Dixie into their home for the night. "We had such a good time of fellowship," Dixie said. "Lois fixed a wonderful pasta with an Italian sauce to die for."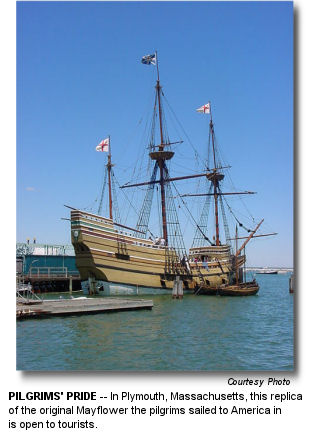 Massachusetts proved to be just as beautiful as the previous states as the FUN Riders traveled her back roads. The towns were established in the 1600s and 1700s and the folks there took care to preserve their history. After breezing through Boston, they found themselves in Plymouth where they saw the famous Plymouth Rock and the Mayflower Ship.
When the FUN Riders think of New Bedford, Massachusetts they fondly remember the friendship they made with GWRRA member Bob Souza, whom they made their Massachusetts food drop to. Born and raised in New Bedford, Bob knew the ins and outs of the area like the back of his hand, and offered a tour of the city. The three piled into Bob's pick up and spent the day watching the fishing boats returning from sea and unload their catches of the day to be taken to fish markets in New York and Boston.
A ride into the countryside took them to a milk bottled shape ice cream stand that, years before, was a dairy. "You will not believe the ice cream shops in these towns," Dixie said. "We passed by one, also in the country, and people were lined up waiting to get an ice cream cone. Bob said when he and his wife, (now deceased) were teenagers in the fifties, they used to go there to get an ice cream cone, and it is still going strong today."
But the tour didn't end there. Next day, the three set out, this time with the FUN Riders on their trike, and Bob on his motorcycle, to explore the posh neighborhoods of Newport, Rhode Island. "You talk about high-dollar living," Bobby said. "I thought we had rich homes here in Texas. This is where the wealthy, wealthy live, the Vanderbilts, Eisenhowers, Bouviers. These aren't just big homes, these were mansions."
While riding through town, Bob pointed out the church where John F. and Jackie Kennedy were married, showed them the ocean home where Jackie lived as a young girl, and where JFK asked Jackie for her hand in marriage. A short distance down the road was President Ike and Mamie Eisenhower's summer home. The ride down the Avenue of Mansions went on for miles.
"I have never, ever in my life seen such homes, one right after another," Dixie said. "There wasn't just a few, they went on for miles. It was just such an exciting thing to see. We will never forget this day." Before saying good-bye, the FUN Riders and new honorary FUN Rider member Bob, enjoyed a lemonade from a very popular seaside lemonade stand, and went their separate ways.
A food drop was made at the Perryville Baptist Church in Wakefield, Rhode Island, then it was on to Connecticut. The excitement continued in Old Saybrook, one of the oldest towns in the United States, located just north of the Rhode Island Sound. A history/geography lesson of the town given by the motel owner where they spent the night revealed many interesting facts.
Old Saybrook was established in 1631. The first Yale University - a brown, two-story Victorian house - was built there. Across the street from their room there is an old building where the very first submarine was invented, built, and tested. The secluded home of Katherine Hepburn was nearby prompting Bobby and Dixie to visit and photograph. The motel they stayed in, where they made their Connecticut food drop, is connected to a house that was built in 1755.
"It still has the original boards on the walls," Dixie said. "You can tell it has many layers of white paint on it but it is in very good condition. The lady who owns it is in her 70s and is such a nice, really classy lady." In planning a trip, timing can be everything, and timing was on the FUN Riders' side when they passed through New York City on a Sunday morning. "We timed going through New York City perfectly," Dixie said. "The traffic was not heavy at all. It did rain on us the hardest during that time but it was not so bad. That was the least traffic I had ever seen in New York City."
The River of Life Family Church, in Somers Point, New Jersey, was the next recipient of a food drop. Driving along the coast of New Jersey, the weather got better.
"I loved the drive through New Jersey," Dixie said. "We took Hwy. 9 along the coast and saw rows and rows of beach homes."
Driving through Atlantic City the FUN Riders kept their money in the pockets and slowed only long enough to take pictures of the hotels and casinos. As the FUN Riders approached the mid-Atlantic states, spring was showing herself in full fashion. Catching a trip on the Cape May Ferry in New Jersey, to Lewes, Delaware, Bobby and Dixie looked forward to meeting their next food drop connection GWRRA members John and Jessie Pieplow, who live in Bathany Beach.
While having lunch with the Pieplows and Jessie's 90-year-old mother, Jessie told Bobby and Dixie where the food drop would go. "They know an older black man, probably in his 80s who lives in a small trailer that doesn't have electricity or running water," Dixie said. "His parents were slaves, he never learned to read or write and he doesn't know his age because there is no record of his birth. Stories like that is what makes this trip so special."
Before taking off for Maryland, John volunteered to wash the trike that had collected 23 states' worth of dirt by then, but Bobby turned him down. "I was proud of every speck of dirt I had on the bike," Bobby said. "It seemed like the thing to do. I did clean the windshields every day but what washing it did get was all natural."
The "Free State" of Maryland was entered into by crossing the Mason/Dixon line at Fenwick, Delaware and Ocean City, Maryland where high rise condos rose out of the sand to accommodate the folks who went to play there.
While in Ocean City they visited St. Andrews Catholic Church to make a food drop. "I walked into the office with the worse case of helmet hair one can imagine, black leather chaps over jeans, black t-shirt and black leather boots," Dixie said. "The ladies were my age and both were dressed in a nice two piece suit. I wish I had a picture of the looks on their faces when I walked in. After I told them who I was and why I was there, one of them said, 'Well, I certainly didn't expect something like this.'"
Leaving the two sweet little Catholic ladies in a state of shock, Bobby and Dixie continued southward and crossed the state line into Virginia, where they traveled the 20-mile Chesapeake Bay tunnel. Dixie's heart leaped into her throat as they entered the tunnel at the posted 55 miles-per-hour speed limit. "As you enter the tunnel, it seems like you're going straight down," Dixie said. "I just buried my Texas spurs into the sides of that Honda and hung on for dear life."
Planning on making their Virginia food drop in Norfolk, the FUN Riders checked into a motel there. However, they were unable to make the connection. Dixie said while she waited for Bobby to check them in, she met and spoke with a woman she became very impressed with. Making a long story short, Dixie learned the woman's husband is a Baptist minister in Washington, D.C. and also works for the government. Dixie and Bobby explained their situation and asked if they knew someone who could use the food.
"When a door closes, God opens another one," Dixie said. "And that's what happened there. Since our GWRRA member couldn't make it, God put someone else in his place."
In the final installment of this series, the FUN Riders will ride through the deep south to the most southern point of the continental United States and return home from the trip of a lifetime.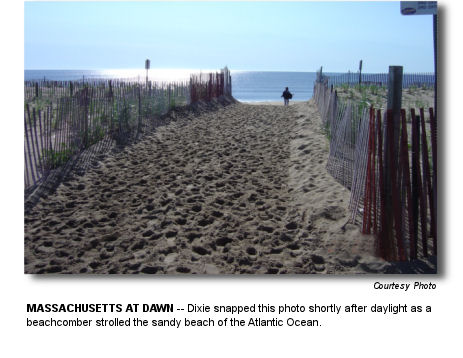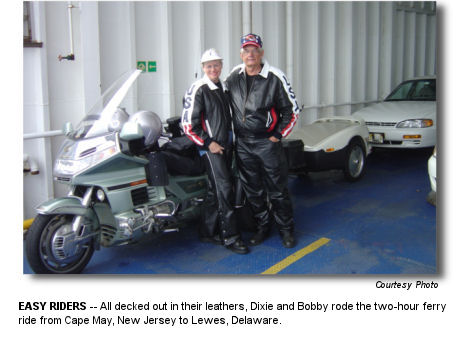 Issue: March 10, 2005- February 10, 2005- February 17, 2005- february 24, 2005- March 3, 2005- March 17, 2005
Back to Good Stories
Back to M/C Repair Course

Did this page help you ? Would you like to help us ? If so Click HERE
Copyright © 1999-2006 dansmc.com. All rights reserved.